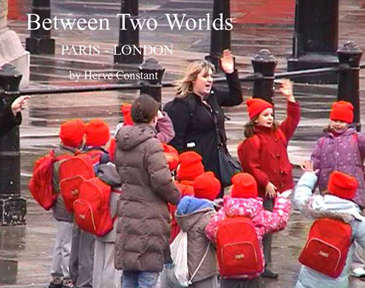 My thoughts were to build a bridge between these two great cities – to allow the viewer to stroll through both environments - mixing images from two enduringly beautiful capital cities.
Leaving Quay d'Orsay in Paris where many book sellers are based, near St Michel, St Germain, we see a mixed view of a flaneur, some sculpture and a famous "Le Flore" and "Les Deux Magots" bistro to capture the flavor of the City of Lights, viewing the Eiffel Tower and the Louvre, before arriving in Hyde Park, London where fortunately I captured a vibrant, potentially explosive group of activists at Speaker's Corner and amongst them are three interesting characters, one of whom gets embroiled – heated – and excited in a rather hilarious exchange between an African and Jewish man which signifies what I like about London where people mix, there are vibrant exchanges and interesting altercations set in a permissive and open spirited way.
Not once did I witness overt acts of aggression or serious threats. It left me in a good mood which lasted for the rest of that day. I continued to stroll with my camera in hand along the banks of the Serpentine and found myself lingering at a favorite spot, near the boating section, and filmed roller blade skaters demonstrating for all to see their expressive movements in an equally relaxed community. Everyone was doing their own thing …it was peaceful … glorious … and I enjoyed watching in particular the male partner giving a wonderful solo performance.

I needed some comparable music and chose "The Comparsita" played by Paolo Conte to accompany the mood of that day. I soon found myself gravitating also toward Covent Garden, early one morning, which again was peaceful. It was still dark and only some early morning workers were visible. I felt that the environment echoed a short poem by "Paul Verlaine"' called "Gaspar Hauser" which describes the kind of dreams most people experience when they go to the big city …
At that time the music of Arvo Pärt 'Spiegel Im Spiegel'is heard in the background for the remaining section of the film which moves on from Covent Garden to Trafalgar Square where a group of children are dancing – in full view of the National Gallery. The rest of the film is rather contemplative thereafter with a view of Parisian Churches - St Severin in St Michel and the Stainglass windows inside St Sulpice near Parc du Luxembourg. From there we return along the quay of the Seine where the last image is of a boat going slowly under a bridge which describes for me the end of the stroll between these two worlds – the actor Michael Ewling reads a short poem by William Wordsworth called "Upon Westminster Bridge" written at a time when peace broke out in the Anglo-French war. Wordsworth was en route to visit the French woman whom he had fallen in love with during his hot student years but whom he had been unable to marry - probably due to 'differences' – but she bore him a child, a girl, whom he never saw, the war had driven them apart and now he was to meet her again for what apparently had proven to be an unusually happy period in his life lasting a few weeks …
Herve Constant, London 2007
Hervé Constant
Hervé Constant is a London-based French artist having been born in Casablanca (Morocco) where his background includes having been brought up in an orphanage over ten years in Hyeres, South of France, where later he studied theatre acting at the Conservatoire de Toulon before obtaining a grant to further his studies at Ecole Nationale Superieur des Arts et Technique du Theatre in Paris.
Hervé's work is a mixture of different interests, social and cultural influences.

Recent projects involve video, photos and sounds and Artist's Books.

Hervé's work is represented by: The Video Art Gallery, London and studio.ra Roma Italy. www.herveconstant.co.uk