1. You, Reader is a series of ongoing performance interventions in which used men's shirts are hand-rendered with excerpts of news stories, then worn back into second-hand stores and 'drop-lifted' onto the racks.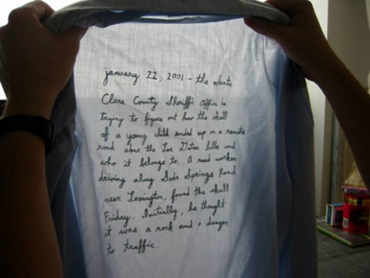 This shirt reads: "January 22, 2001-The Santa Clara County Sheriff's Office is trying to figure out how the skull of a young child ended up on a remote road above the Los Gatos Hills and who it belongs to. A road worker driving along Soda Springs Road near Lexington found the skull Friday. Initially, he thought it was a rock and a danger to traffic."
The audience is formed individually and in situ when a shopper encounters the altered clothing. People in the store could see the intervention take place, but this is unlikely, as the 'drop-lift' unfolds in a very clandestine manner.
The viewer becomes a reader when they find the shirt, and decide either to buy the shirt or leave it behind. The shirts remain fully wearable; it is possible that a viewer/reader becomes a buyer/collector, and then encounters another collector randomly in the city in which these interventions take place.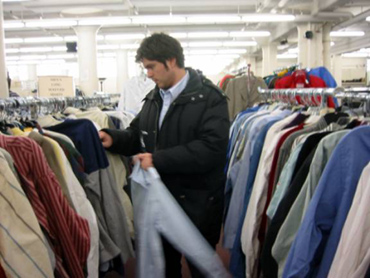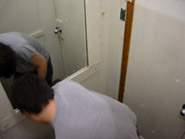 In the changing room, a 'blank' shirt is swapped for one with text. The price tag is also traded.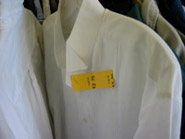 This shirt re-sold for $2.79 US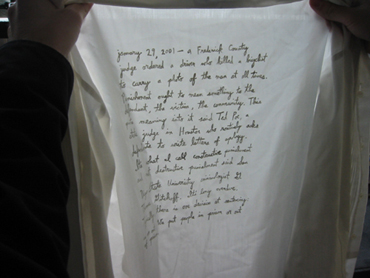 This shirt reads "January 29, 2001-a Frederick County judge ordered a driver who killed a bicyclist to carry a photo of the man at all times. "Punishment ought to mean something to the defendant, the victim, the community. This puts meaning into it," said Ted Poe, a state judge in Houston. "It's what I call constructive punishment not destructive punishment." said San Diego State University criminologist G. Thomas Gitchoff. "Its long overdue. Typically, there is one decision at sentencing: in or out. We put people in prison or out of prison."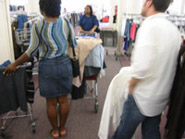 Is a store public space? Is it a space in which we recuperate or reject history? Are these news fragments part of our collective consciousness or unconsciousness?
This shirt reads " February 5, 2001 - The bloody body of Benjamin Varner, 19, was found before dawn in the room where he lived alone on the fourth floor of Cogswell Hall, the dormitory where Eric Plunkett, also 19, was killed September 28. Today, it was evident that Mr. Varner's death had rekindled fears that a killer whose motives remained a mystery might be at large, stalking victims on the cloistered campus of about 2000 deaf or hearing-impaired students in this residential section of the nation's capita".
2. In Lost and Found (2004) a pair of men's leather shoes are made into writing instruments that leave ephemeral 'land-marks' in the terrain. Words are carved into the heel of each shoe; as they are worn on walks they stamp messages into snow, dust, mud and water.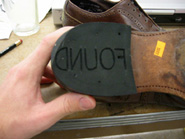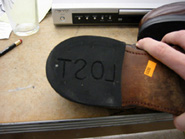 The grooves are cut into the rubber of the heel, like tread on a tire. They are carved in reverse in order to stamp a message read normally.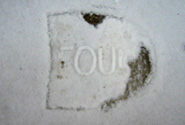 A snow print left on a January walk near Riverside Avenue in Minneapolis.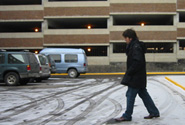 The audience is comprised of other pedestrians traveling through the city. They are asked to be readers, but they retain no physical evidence of the words or the performance. The words will eventually dissolve or disappear. They are vulnerable to the environment and the movements of others.
3. Soft Jaws, an underwater sound event, was designed for installation at an outdoor swimming area, Västra Hamnen, in Malmö Sweden-across the sea from Copenhagen Denmark.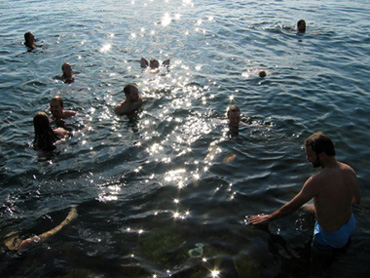 The sound was broadcast only underwater, so listeners had to swim or float in the sea to listen.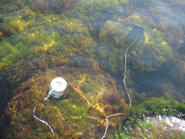 Soft Jaws was composed entirely from lighthearted samples taken from the film Jaws. For listeners, drunken sailor songs and off-key clarinet blasts mingled with the sound of their own swimming and ambience specific to the site.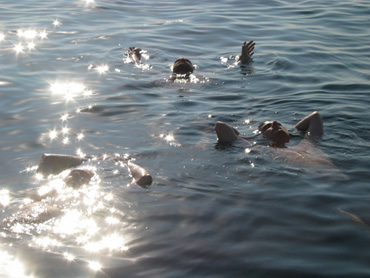 Abinadi Meza is an artist currently based in Minneapolis, USA. He teaches sound art and interactive art at the University of Minnesota, Twin Cities. His work is shown internationally, recently appearing in the Biennale for Electronic Art, Perth Australia; Cinemaniac Film Festival, Pula Croatia; and La Casa Encendida, Madrid Spain. For more details and works visit http://abinadimeza.net