Kate Pendry is a British performance artist, currently resident in Oslo. She is a multi-artist/performer. Works include 'Dead Diana' (Oslo, London, Copenhagen, Riga, Stockholm, Belgrade), "The Dead Celebrity Diaries" and "Marilyn Peepshow" performance/installation and Internet projects. She most recently debuted with her first solo exhibition (including performance) "My Mistress Anarchy... tales from a wicked child" at the Kunstverket Galleri, Oslo. This was a site specific installation using sound/photo and sculpture, reflecting on the politics of childhood and the dark underbelly of infancy, including sexuality, and children who kill. Images include Hitler and Diana, Princess of Wales as babies, as well as autobiographical material to underscore the artist's relationship to the theme of 'angels and monsters'.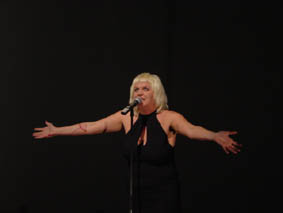 Current work:
---
Sex In The War Zone:
A one hour spoken word piece, using real-time voice manipulation
effects and some blood letting. The piece is about the artist's
recent journey to Sarajevo and Kosovo/a and addresses the very taboo
subject of (post) war-tourism, and the eroticism that
'westerners' experience in these situations.
dur 55 mins.
Sex In The War Zone part 2: Belgrade
In this sequel the artist describes her experience performing
the original 'pro-Kosovo' Sex In The Warzone performance in Belgrade,
Serbia at the end of 2002.
She meets the mafia, corrupt police officers, the underground queer
milieu and representatives from the United Nations. and comes to some
startling conclusions about sex and war tourism.
dur. 50 mins
(Oslo, Bergen, Frederikstad, Brussels, Belgrade, Leipzig)
Dead Diana
A controversial performance piece involving real-time voice manipulation where the artist 'brings back' Diana, Princess of Wales from her hellish paradise, populated with so many other dead celebrities, who also appear through the artist's body and voice.
dur. 40 mins.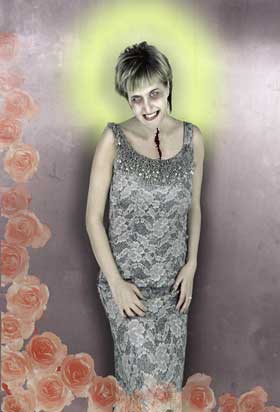 Peepshow Marilyn: Gentlemen Prefer Dead Blondes...
A poetic and ambient performance where the artist (as Marilyn in the moment of her death) uses real body modification in the form of sixteen fishhooks through the flesh, to dramatise the significance of both the artist and Marilyn's pain. This has become a durational living installation lasting up to twelve hours, and is extreme art.
Performed in Oslo (Stunt Club/Pain Solution Studios), Riga Latvia (6th Element International Women's Art Festival), Bergen International Theatre Oktoberdans Festival (artist in residence, 2002), Belgrade-Serbia, Queer Identities Festival 2002, Kaai Theatre Brussels.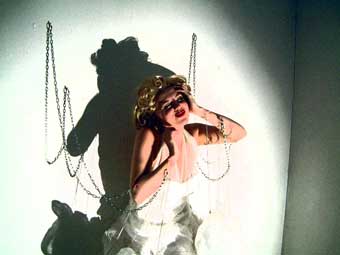 My Mistress Anarchy... Tales from a wicked child Performance/Installation using photography and sound. The piece explores the dark sides of childhood and includes fifty child portraits of famous and infamous killers, victims and 'A' celebrities. The performance includes extreme art practises to illustrate the eating disorder bulimia, and the artist asks the question: "At what point do children turn bad...?"
Art Works:
---
Within the electronic art field has exhibited at Kunstnerneshus Oslo (Eon 97, Detox 99), the Melbourne Biennale 99; 'Electra 96' at Henie-Onstad Art Centre, the 5th International Biennale in Istanbul, DEAF-Rotterdam; Awarded an honorary mention at Prix Ars Electronica '96 for "sense:less" (w. mork/stenslie/watz)
"Charlie Pendry's Talking Head" with the DETOX exhibition (Riksutstillinger); opened at Kunstnernes Hus in Oslo November 1999 toured Norway through 2000 and Iceland 2001.

Most recently co-curated the controversial 'Stunt Club' exhibition in Oslo featuring over 70 international artists during a 6 week period.
Sole curator of 'Cunt Club', an alternative World Women's Day Celebration including women's fight club and pornographic embroidery exhibits.
Links to art works:
Charlie Pendry' Talking Head:
http://www.riksutstillinger.no/detox
Dead Diana:
The Dead Celebrity Diaries:
http://www.zoolounge.com/deadcelebrity
Licktoad Jubenia:
http://www.evolutionzone.com
/hardwork/licktoad/index.html
Sense:less:
http://www.evolutionzone.com
/hardwork/senseless/index.html
Résumé
Kate Pendry also currently writes and presents the DDC World News (Dead Diana Corporation) satirical, maverick radio show on Radio Orakel, Oslo (the first all-women run radio station in the world).
She is a regular guest artist and acting instructor for Pain Solution Performance Group
Nominated Actress of the Year 2002, Blikk Magazine.
Previous theatre/TV/film appearances
International professional theatre performances include "24 Hour Performance" Kjøbenhaven Internasjonal Teater; "Decadence" (Prague, dir. Edward Hall), Goneril in "King Lear" (Reading Open Air Theatre). Bellamira in "The Jew of Malta" (Kurtz TC, Barons Court Theatre, London). Television includes 102 episodes of "The Snow Children" for TV2 Norway (currently showing in Denmark and China). Film: "He Always Seemed Like A Nice Guy", Astral Prod. Norway (awarded "best of" at Grimstad 96). "Between The Lines" Marianne Østengen ('best of' Grimstad Film Festival 1998),
In post: "Hotelroom" Filmkamaret. Scandic cine-distribution 2003
In production: "Not Exactly Nicorette" Inspera Film (Canadian/Norwegian production)
Voiceover work ranging from TV documentaries to video games too numerous to mention :-)
Writing:
As a writer Kate Pendry has had seven plays produced in Norway in the last five years, including Monster Madonnas for The Oslo Stage Company, Cabaret Pigalle (ØJ Prod, Pigalle Nattklubb), Ethnic Zoo for the Norwegian Red Cross; I Can Also Sing The Blues, a play about racism for Nordic Black Theatre.
I Can Also Sing The Blues:
Teaching:
Kate Pendry continues to give numerous workshops and lectures on diverse themes including:
"Risk aversion and the morality of low expectation in performance" - ArcArt: Symposium on Extreme Art Practices, Tromsø, Norway http://www.arcart.no
"Body Language" – National Assoc. for Women with Eating Disorders (Norway – ongoing)
"Virtual Reality as a new theatre medium" - Statens Håndverks- og Kunstindustriskole (National College of arts and Crafts, Norway)
"Culture Jamming and Media Activism " - School for Visual Arts, NYC
"Storytelling in new media" – Telenor FOU (Norwegian Telecom Research and Development department)
http://rosa.nta.no/remedie_nextel
/Remedie_fiksjon.htm
She delivers workshops in Acting, performance and visual art – Spellaget, Oslo Players, Nordic Black Theatre School, Prague State Theatre School, Art Academy in Bergen, Trondheim.
Education:
Training: Mountview Theatre School (3 yr diploma. acting) + 2 seasons w. National Youth Theatre of Great Britain.
Union membership:
Norwegian Actors Equity
Norwegian Playwrights Association
Norwegian Visual Artists Union
Norwegian Young Artists Foundation
British Actors Equity
Kate Pendry suggests you may also be interested in the work of Stahl Steslie, her colleague, as he is working with interactive body interfaces: