*nikikon* Niki Konstantinou seeks for the space that exists between our actions as a chaotic grid. This space describes our relationships with other people, situations, thoughts, ideas, objects or meanings situated in time and space. Expanding time, that is the perpetuity of the instantaneous moment, the Work of Art allows us to seek after the hidden levels of reality. The isolation of the instant and the object, confirms the individual and His/Hers uniqueness, liberates the Subject/Object of the ArtWork from the determinism and the linear process of development. The incessant interaction and transmission of energy within complex relationships and gaps is hidden between our acts. Complexity refers to human activities, relationships, and influences through interconnection between the people and their environment. The moment of being is represented with a sense of movement. Virtual environments provide the facility of expanding the 3d environment into a 4d one including movement in time. This Neo-conceptualism approach interacts with the viewer in computer installations and virtual environments.
Today Niki Konstantinou manipulates the previous ideas digitally via software and language programming. She tries to shake our imagination and memories we have via futuristic images, which might affect our reality. She gives visual shape and concrete form to the 'thing' within and captures shots from the representation. The latter images collapse into anarchy and give the impression of non-organic forms and unreal idea of the 'real'.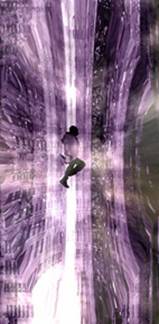 Description of submitted work:
Title: Falling in Love
Year: 2003
Printing technique: Large Print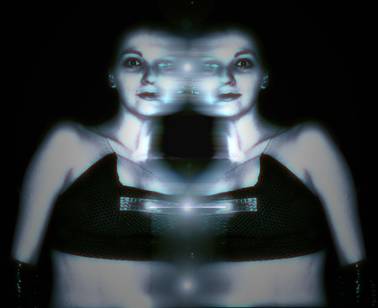 Description of submitted work:
Title: Narcissism to Death: the end of the self and the end of psychology as we know it
Year: 2003
Printing technique: Large Print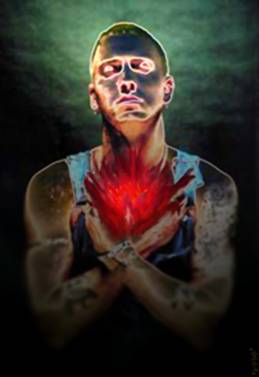 Description of submitted work:
Title: 'An eye is not just a camera; it is a sense organ for perceiving and an expressive organ for reacting. A heart is not just a pump; it is an organ fro feeling, which pump cannot do. We are sentient beings, which means we have the power to sense or perceive and to experience sensation or feeling as the living body has a mind, possesses a spirit and contains a soul.' Alexander Lowen sited in 'Body & Soul' by Sara Martin
Year: 2003
Printing technique: Large Print
Webart and netart exists on my webpage http://nikikon.com
Niki Konstantinou or *nikikon* is currently a PhD student in Computer Science, digital imagery and computer-based installation artist at London Metropolitan University, UK. She was Born in Ancient Olympia, Greece, 1969. She has studied Fine Arts, Computer Graphics (1988); Art Education and History of Art (1992) at St Martin's School of Fine Arts, (1995) and has an MA in Information & Communications Technology from the University of London (2000). She lives and works in London.
E-mail address: nikikon@hotmail.com